When our cat of many years died a year and a half ago, I looked all over for a gravestone or marker for pets.
I ended up getting a resin statue of a fairy to put in the garden just to remember her by. Fairies have nothing to do with cats, but I couldn't find anything else!
Well wouldn't you know it, I found some by accident today:
Remember Me Pet Memorial Stone
I like this one, because you can use it for any pet.
Here is a grave marker specifically for cats:
Rest In Peace Pet Memorial Marker - CAT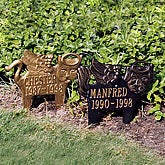 They also have the traditional gravestone you can have personalized for your dog (or any pet, I suppose)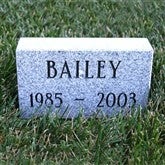 Rest In Peace Granite Pet Memorial - GRAY GRANITE
I can also do memorial pencil portraits of pets.
See pencil portrait art examples:
DOG PENCIL PORTRAITS
CAT PENCIL PORTRAITS